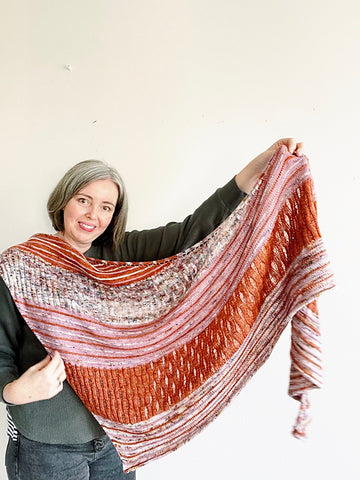 Your Shawl, Your Way Sundays October 29 - November 19 94 weeks) 12:30 - 2:30pm
Your Shawl, Your Way
Advanced Beginner and Beyond

Sundays October 29 - November 19  (4 weeks)
Time: 12:30 - 2:30pm
Instructor: Lauren
Cost: $100
Brrrr! Stay warm with a shawl perfect for layering on those chilly fall days. We're suggesting the following patterns, but you can work on the pattern of your choice in this 4 week class for advanced beginners and beyond. We are always happy to help select patterns and yarn.
Suggested Patterns
By The Creek: Jacqui Verbeek
https://www.ravelry.com/patterns/library/by-the-creek
Wendy Sky Shawl: Debby Reece
https://www.ravelry.com/patterns/library/wendy-sky-shawl
Foliole: Amy Gunderson
https://www.ravelry.com/patterns/library/foliole-4
Required Supplies
Your own copy of the pattern of your choice as well as yarn and needled as indicated by the pattern.
*Yarn purchased for classes receives a 15% discount. Due to the special promotional pricing for the Giverny Sweater kit, we will not be able to apply the class discount to kit purchases. 
Skill Requirements:
At least one beginner knitting class and 1 small to medium project. Must be comfortable with long tail cast on, knit and purl stitches, and casting off. 
Please adhere to the following guidelines:
Please stay home if you are sick in any way. We'll try to get you caught up by the next class. 
 Classes are mask-optional
Fabric and yarn purchased for this class will  receive a 15% discount when purchased through the shop. Come into the store to discuss choices!
Registration and Cancellation**: Please register in advance. Classes with less than 50% enrollment may be cancelled at the discretion of the instructor within 72 hours of the first class. In this case, a full refund will be given. Full refunds granted up to 2 weeks before first scheduled class. After that, and up to 72 hrs before a scheduled class, cancellations will result in credit toward another class on a stand-by basis. Cancellations within 72hrs or less of a scheduled class are non-refundable/non-transferrable unless the class sells out.
*Makeups are not available for classes. If you miss a class, we'll try to get you caught up in class. 
**By registering for this class, you are agreeing to our registration and cancellation policies.
---
We Also Recommend