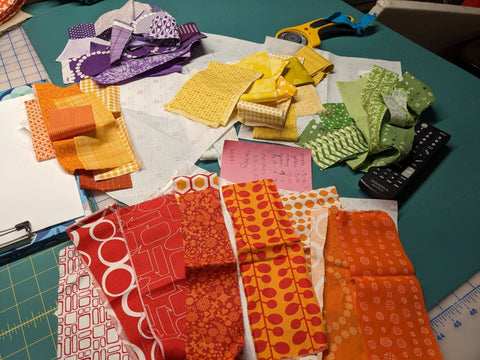 Quilt Lab WIPs Thursdays 6:30 - 8:30pm December 7, 14, 21
Quilting: WIP Lab

Thursdays December 7, 14, 21 (3 weeks)
6:30 - 8:30pm
Beginner to Advanced (must know how to use a sewing machine)
Sarah Evans
$90
WIP = Work in Progress.  This Quilt Lab is all about the process.  Bring a project you are working on to class. Maybe you need help figuring out the color scheme, or a refresher on rotary cutting with a ruler, or are stuck and want a place where you can have dedicated time to work on a project.  This is your chance to pick a quilt teacher's brain and learn from other students who may ask questions you've not yet known you need to ask!  This is also a great time to work on projects for the holidays.  
Required Supplies
Supplies necessary for the project of your choice.
Current knowledge of how to use a sewing machine is a must.  
Ensure your class will take place by registering as early as possible. Classes with low enrollment are cancelled 72hrs before the scheduled start date.
Please adhere to the following guidelines:
Please stay home if you are sick in any way. We'll try to get you caught up by the next class. 
Classes are mask-optional 
Registration and Cancellation**: Please register in advance. Classes with less than 50% enrollment may be cancelled at the discretion of the instructor within 72 hours of the first class. In this case, a full refund will be given. Full refunds granted up to 2 weeks before first scheduled class. After that, and up to 72 hrs before a scheduled class, cancellations will result in credit toward another class on a stand-by basis. Cancellations within 72hrs or less of a scheduled class are non-refundable/non-transferrable.
*Makeups are not available for classes. If you miss a class, we'll try to get you caught up in the next class. 
**By registering for this class, you are agreeing to our registration and cancellation policies.
---
We Also Recommend