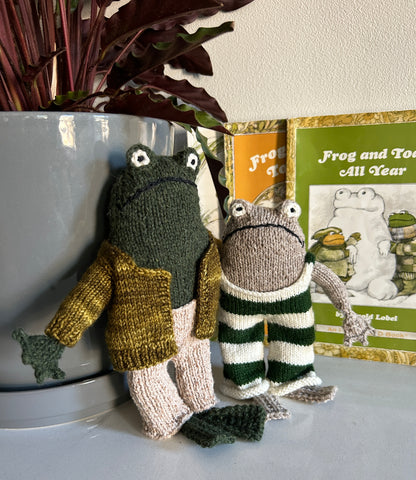 Frog and Toad Knitting Kit
The companion to our Frog and Toad Class inspired by the Frog and Toad Pattern from Frog and Cast. You can make them even if you don't take our class!  

Purchase of the pattern from Frog and Cast is required to complete the pattern. You can read about and purchase the pattern here:
https://www.frogandcast.com/frog-and-toad-home
Knitting needles and all notions will need to be purchased separately.
Each kit consists of all the yarn needed to make the adorable Frog and Toad characters from Arnold Lobel's beloved book series. 
We've portioned out enough yarn for all the pieces so you don't have to purchase 6 whole skeins.
Frog Body: Queensland Walkabout Organic Shetland Tundra
Frog Coat: Lichen and Lace 80/20 Sock Shrub
Frog Pants: Berroco Remix Light Almond
Toad Body: Queensland Walkabout Organic Sheltand Oatmeal
Toad Bathing Suit: Fonty BB Merino Snow and Deep Green
Kits are not returnable. 
---
We Also Recommend