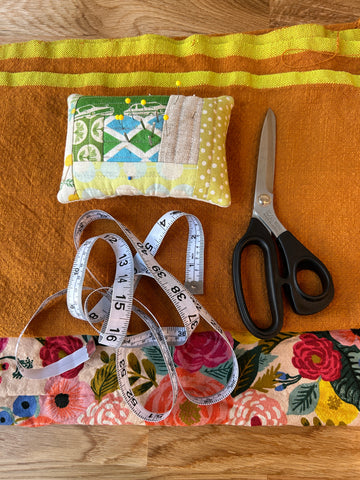 Guided Project Sewing Tuesdays October 17, 24, November 7, 14 (weeks) 6:30 - 8:30pm
Guided Project Sewing: Advanced Beginner
Tuesdays October 17, 24, November 7, 24 (4weeks) NO CLASS OCTOBER 31
Time: 6:00 - 8:00pm
Instructor: Melina
Cost: $120
Work on your own project at your own pace. You'll have access to our sewing machines, sergers, work space and expert guidance from your instructor. Access to a sewing machine outside of class is beneficial but not necessary.

Skill Requirements: At least one prior beginner class or the equivalent in experience. Must be comfortable using a sewing machine.
Required Supplies
Your own copy of the pattern of your choice

Fabric as specified by your pattern size, plus fabric of similar weight for modifications
Coordinating all purpose thread
If possible, please wash, dry and press fabric before the first class.
Fabric purchased for this class will  receive a 15% discount when purchased through the shop. Come into the store to discuss choices!
Please adhere to the following guidelines:
Please stay home if you are sick in any way. We'll try to get you caught up by the next class. 
 Classes are mask-optional
Registration and Cancellation**: Please register in advance. Classes with less than 50% enrollment may be cancelled at the discretion of the instructor within 72 hours of the first class. In this case, a full refund will be given. Full refunds granted up to 2 weeks before first scheduled class. After that, and up to 72 hrs before a scheduled class, cancellations will result in credit toward another class on a stand-by basis. Cancellations within 72hrs or less of a scheduled class are non-refundable/non-transferrable unless the class sells out.
*Makeups are not available for classes. If you miss a class, we'll try to get you caught up in class. 
**By registering for this class, you are agreeing to our registration and cancellation policies.
---
We Also Recommend