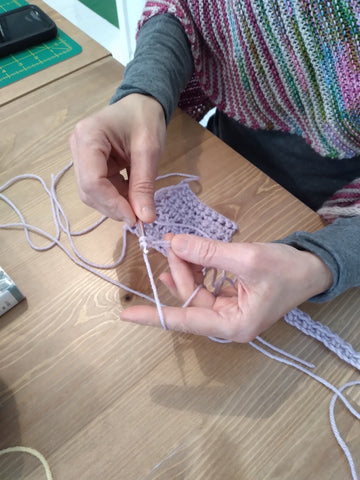 Independent Project Crochet Thursdays 6:30 - 8:30pm December 1, 8, 15 (3 Weeks)
Independent Project Crochet Advance Beginner and Beyond
When: Thursdays December 1, 8, 15 (3 weeks)
Time: 6:30 - 8:30pm
Cost: $75
Instructor: Grace
Limit: 8
Not sure where to go next with your pattern? Trying to work through your gift list? Interested in advancing your skill level with a more challenging pattern? Independent Projects is a class designed for the adanced beginner and beyond who wants to work on their own project at their own pace. Small group class under the guidance of an expert instructor.

Bring your own pattern or us help you select a project appropriate for your interest and skill level.
Instructor Bio
Grace is passionate about all aspects of fiber arts and thrives on sharing her knowledge with others. Drawing on more than 17 years knitting and crocheting, and over 12 years of teaching experience, Grace is ready to help you on your crochet journey!

Yarn for one of our classes receives a 15% discount when purchased through the shop.  
Please adhere to the following guidelines:
All students and staff must provide proof of vaccination before the first class, or, provide a negative test result within 24 hours of each class.
Please wear a mask that securely covers your nose and mouth at all times. 


Please use either our hand sanitizer (available at the entrance and at stations in the shop and studio) OR our disposable gloves. 


Please observe social distancing


Please stay home if you are sick in any way. We'll try to get you caught up by the next class. 
Registration and Cancellation**: Please register in advance. Classes with less than 50% enrollment may be cancelled at the discretion of the instructor within 72 hours of the first class. In this case, a full refund will be given. Full refunds granted up to 2 weeks before first scheduled class. After that, and up to 72 hrs before a scheduled class, cancellations will result in credit toward another class on a stand-by basis. Cancellations within 72hrs or less of a scheduled class are non-refundable/non-transferrable unless the class sells out.
*Makeups are not available for classes. If you miss a class, we'll try to get you caught up in class. 
**By registering for this class, you are agreeing to our registration and cancellation policies.