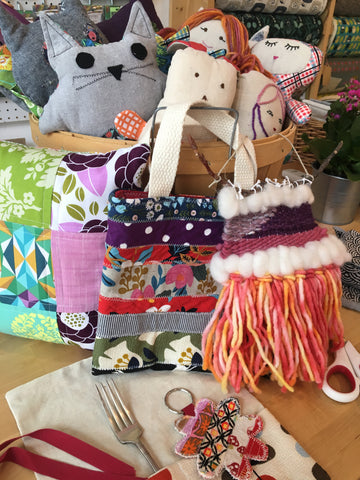 Week 2: Beginner Machine Sewing Ages 8 - 13 12:30 - 3pm June 26 - 30
Summer Camp Week 2: Beginner Machine Sewing
Beginner to Intermediate No Prior Experience Necessary 
Ages: 8 - 13
June 26 - 30

12:30 - 3:00pm
Designed to foster a love of sewing, this camp will focus on small projects that kids can use and be proud of. Kids will choose from a variety of the finest materials selected from our shop.

All camps will take place in our studio located at 904 Sherman Ave.
Registration and Cancellation: Enrolling in a camp secures your child's space. You may withdraw with no penalty up to 2 weeks before the first day of a scheduled camp. After that, and within 1 week of the first day of a camp, you may withdraw minus a $75 cancellation fee. Cancellations within 1 week of a scheduled camp are non-refundable/non-transferrable. Because each camp is unique, make-ups are not available. If you miss a day, we'll get you caught up the following day.
If a camp is full, please email info@evanstonstitchworks.com to add your name to a waiting list on a come first serve basis.
*Please read our camp registration and cancellation policies. By enrolling in a camp, you agree to our policies. Thank you!
**Please note that camps with less than 50% enrollment 72 hours before the camp begins may be cancelled and a full refund given. 
---
We Also Recommend