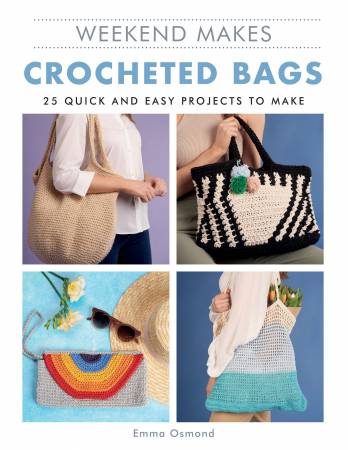 Weekend Makes Crochet Bags
Weekend Makes: Crocheted Bags is a stylish collection of 25 simple projects for every occasion. Crochet your way from clutch to tote, making a variety of beautiful bags in between, with the latest title in the Weekend Makes series. Crochet has been brought bags up-to-date and now fills Instagram and Pinterest – not to mention catwalks and high-end fashion houses – with modern masterpieces.
Grab your crochet hook and yarn and join the trend by creating a carrier for every outing. Whether you're a newcomer to this craft or have been hooked for a while, you'll find a project to kickstart your creativity and learn the skills required to make it. With detailed techniques, tools and materials sections, this book provides everything you need to know to get started.
Each project guides you step by step with easy-to-follow instructions and close-up photos of each stage. Whether you need to carry keys, groceries or a picnic, or add the finishing touch to an outfit, there are 25 easy projects to make, from essential everyday bags, such as the tote, shopper and backpack, to more exciting, elaborate shapes, such as the Japanese knot, circle raffia and drawstring bag.
As well as learning the basic stitches and how to shape these styles, you'll expand your knowledge to create different patterns and textures, including leopard print, geometric and honeycomb designs, and work with different colours and types of yarn.

---
We Also Recommend