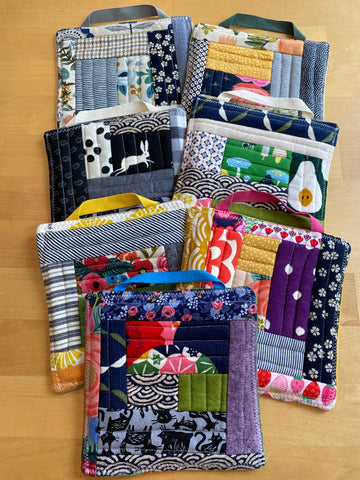 Beginner Friendly Potholder Workshop Sunday December 4th 12:00 - 2:30pm
Log Cabin Potholder Workshop
Beginner
Sunday December 4
12:00 - 2:30pm
Instructor: Amalia
$65 includes materials
It's wonky and wonderful and makes a fun and easy gift! We're supplying all the materials but feel free to bring your favorite small scraps if you have them.
 Required Skills:
Some prior sewing experience is helpful.
Skills Learned:
Log Cabin Quilt As You Go  
Please arrive early for your class. If you arrive more than 15 minutes late to any class, the instructor may not be able to catch you up. 

Please adhere to the following guidelines:
Please wear a mask that securely covers your nose and mouth at all times. 
Please observe social distancing.


Please stay home if you are sick in any way. 
Patterns and fabric for classes receive a 15% discount when purchased through the shop. Come into the store and let's talk, or we can schedule a Zoom meeting to get a closer look at what's in stock. We can arrange for pick up or ship anywhere.
Registration and Cancellation**: Please register in advance. Classes with less than 50% enrollment may be cancelled at the discretion of the instructor within 72 hours of the first class. In this case, a full refund will be given. Full refunds granted up to 2 weeks before first scheduled class. After that, and up to 72 hrs before a scheduled class, cancellations will result in credit toward another class on a stand-by basis. Cancellations within 72hrs or less of a scheduled class are non-refundable/non-transferrable unless the class sells out.
*Makeups are not available for classes. If you miss a class, we'll try to get you caught up in class. 
**By registering for this class, you are agreeing to our registration and cancellation policies.