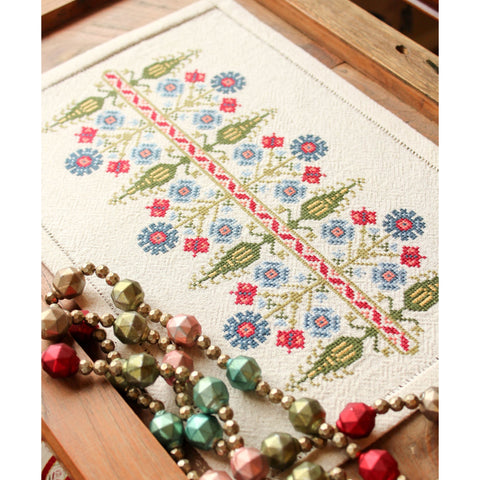 Delphian Cornflower Table Runner Cross Stitch Kit
 Delightful sprays of blue cornflowers alternate with deep green cypress trees, a common motif in Mediterranean embroidery. I've arranged this charming floral design as a mirrored border, but you could easily use the designs in a variety of ways: the floral sprays or cypress trees as single motifs for a smaller project such as a child's dress or pincushion, the small center border on a towel or small bag, or re-orient the design as a double-ended table runner. Or, if you want a longer table runner, simply use a longer piece of fabric and work more repeats.
Stitch count:79x171 sts/5264 total stitches
Finished size 9-1/2 x 14"
The kit includes 26 count Traditional Groundcloth, DMC floss, full color pattern, and John James size 24 tapestry needle.

Made in United States of America
---
We Also Recommend