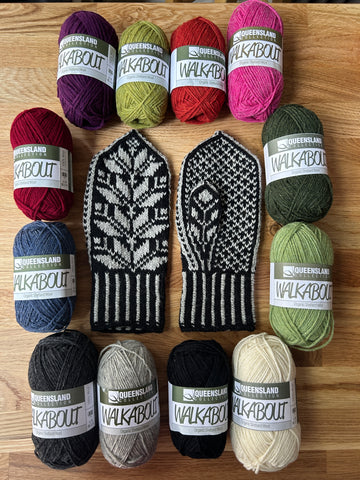 Norweigian Mittens For Mimi Free Shop Pattern
We thought this pattern was lovely and a great way to utilize our Queensland Organic Shetland DK. The cuff was altered to further highlight the color contrast of the yarn. One skein 50g skein each of two colors was all it took to make them.
Do not place an order for the pattern. We will have a sample and printed copies at the shop or you can use the link below to access and download directly from Ravelry.

From Anna:
Pattern for Norwegian Selbuvotter which I designed after seeing someone wearing mittens with a pattern similar to this. I made these for my little sister but they were so pretty I had to make myself a pair, too. The size is easily changed by switching needle size, as outlined in the pattern. This pattern isn't too tough and uses pretty big needles and yarn compared to many Norwegian mittens, so it's a good start for someone who wants to try making a traditional Norwegian mitten for the first time.